Paralegal Ethics Handbook
---
The Paralegal Ethics Handbook, 2022 Edition is an essential resource for experienced paralegals, those new to the profession, as well as attorneys who supervise paralegals.  The Handbook is also an important reference for paralegal students and educators.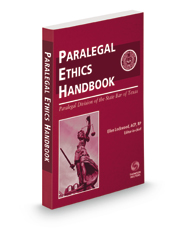 The Handbook can be purchased online via the ThomsonReuters.com website.
The Paralegal Ethics Handbook, 2023 Edition is a resource for all paralegals that addresses ethical considerations for 17 practice areas, as well as considerations for in-house, corporate, freelance, administrative, governmental, and regulatory law paralegals. This title:
Examines topics such as defining ethics, ethical obligations, and remaining ethical
Addresses ethical considerations for e-filing, e-discovery, and technology
Provides resources for state information and paralegal association ethics cannons, plus related information
Contains rules and regulations for all 50 states and Washington, D.C
Explains how to determine whether an action may be an ethical violation
Authored by members of the Paralegal Division of the State Bar of Texas, including Ellen Lockwood, ACP, RP as lead author.